Covid-19 (Coronavirus)
On this page you will find the latest up to date information about COVID-19. If you need to contact school during the school day or outside of school hours, the school email address is office@roundhill.notts.sch.uk During office hours the school telephone number is 0115 9179262.
If you need to let us know that your child will not be at school due to having Coronavirus symptoms, please complete the absence form: Click here to report your child's absence.
This flow chart explains our COVID-19 Outbreak Management Plan: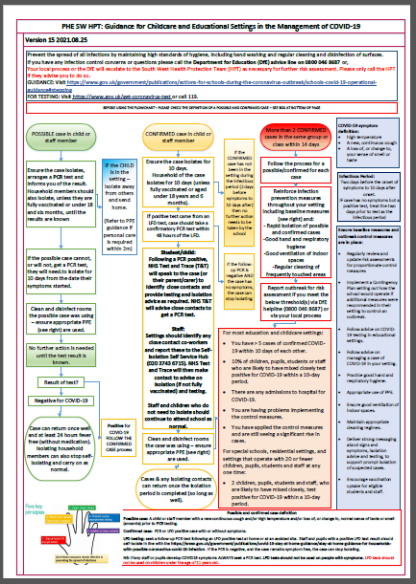 Guide for parents of what to do if your child is unwell
A reminder on what to do to if your child is unwell. If in doubt, err on the side of caution and keep your child off school. Schools have been told:
If a parent or carer insists on a pupil attending school, we can take the decision to refuse the pupil if, in our reasonable judgement, it is necessary to protect other pupils and staff from possible infection with COVID-19. My decision would be carefully considered in light of all the circumstances and current public health advice.
Although continuous cough, fever and loss of smell (anosmia) are usually highlighted as the three key symptoms of COVID-19, research shows that children in particular can experience a wide range of different symptoms in addition to these. To reduce the risk further, I am asking that parents and teachers keep an eye out for symptoms such as fatigue and a headache, particularly if these are unusual for the child. If your child develops any of these symptoms, I would recommend, to keep your child at home if you are able to, until they are well enough to return to school.
Symptoms in children can be different to the 3 main symptoms (high temperature, persistent cough, and a loss or change to one's sense of smell or taste). If there is any doubt children should get a PCR test (specifically not just take a LFT) and test negative before returning to school.
Should you or a member of your household display coronavirus symptoms, you can book a test by calling 119 or using this link.
Should your child have a PCR test, please remember to email the result of the test so we can keep our records up to date. After proof of a negative PCR test, when they are well, they can return to school.
If your child has a temperature they must stay at home, a temperature can indicate many different illnesses.
If your child has had a temperature and no other symptoms develop, we still strongly encourage you to take your child for a PCR test.
If your child has a minor cold without a cough, they can come to school when they are well enough to return.
If your child has a stomach upset, keep them at home for 48hrs from the last time they are sick or have diarrhoea. If they develop a temperature, cough or lose their sense of smell and taste, arrange a PCR test.
How do I get a Test?
Should you or a member of your household display coronavirus symptoms, you can book a test by calling 119 or using this link.
What do I do when I get my result?
Follow the NHS guidance on this link, noting that IF YOUR CHILD'S TEST IS POSITIVE YOU MUST INFORM SCHOOL IMMEDIATELY.
What do I do if I get a Negative Test Outcome?
If your child has a negative test outcome, to reassure my staff and the rest of the school community, parents are being asked to provide evidence, by emailing the school a screen shot that the test outcome is negative. This will be required prior to them starting school again. I am sure you will understand our reasoning, but if you would like to discuss this further then please let us know.
Ultimately, the decision to send your child to school is yours and you must make the final decision, as you know your child best. However, if a child becomes unwell at school then I will be calling you to collect them.
The arrangements will be constantly under review to ensure the health and safety of everyone. Stay safe and well.
Remote Learning as part of Outbreak Management Plan
It is vitally important that children practice using their newly acquired remote learning skills as when they are in school, children will submit homework and complete assignments electronically using either TEAMS or ClassDojo. Since the children have returned to school they have received training on how to further use the technology. This will be particularly useful if groups of children have to self-isolate when told to by Track and Trace.
Control Measures
In the updated Government guidance for the reopening of schools, we will still be implementing the 'standard' measures of enhanced cleaning, good hand hygiene practice, and good ventilation. In addition, whilst will no longer be operating in 'bubbles' we will not be holding assemblies in the hall just yet. Staggered start and end times or have always been a feature of our large site and will remain as before (see below). All measures have been risk assessed and will be reviewed regularly.
No Facemasks for Children
Apart from some pre agreed exceptions, as we have mentioned previously, children will not be allowed to wear masks in school. If children do wear one on the way to school, they should know how to safely take it off and have a sealed bag with them to keep it safe or throw it in a tissue bin in school. They should wash their hands immediately after they have taken off their face mask.
Change in Circumstances
If you feel that due to a change in personal circumstances that your family is now entitled to free school meals then please follow this link for further information https://www.gov.uk/apply-free-school-meals.