School Dinners - Lunch Options
At Round Hill children can choose to bring sandwiches or have a freshly cooked school meal, which is prepared daily on the school premises.
There is always a non-vegetarian and a vegetarian option available as well as special meals if a child should need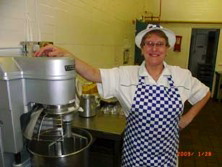 one.
At Round Hill children sit down together and older children serve the younger children and offer a helping hand should one be needed. This Family Service approach to meal times is ideal for developing cooperative and supportive skills with our children.
Our school cook is Lynn Lowe.
Menu
To find out what is on the menu each week click on the link below.
Round Hill's School Dinner Menus
Packed Lunch
Children can also opt to bring a packed lunch. We are working towards children bringing healthy lunch boxes to school.
Free School Meals
For imformation about Free School Meals click here
Click here for the latest menus
Cost
The cost of school meals is £2.29 per meal, or £11.45 per week.
Payment
Cick here or on the SQUID link on the right hand side of the page.
Free Milk