Secondary School Information
Please find below and attached, information regarding the open evenings at our local Secondary Schools.
You can apply for a Secondary school place for your child to start in September 2022 from: 9th August 2021 to 31st October 2021. All applications must be received by 31st October 2021. To apply on line click on the following link:
https://www.nottinghamshire.gov.uk/education/school-admissions/apply-for-a-school-place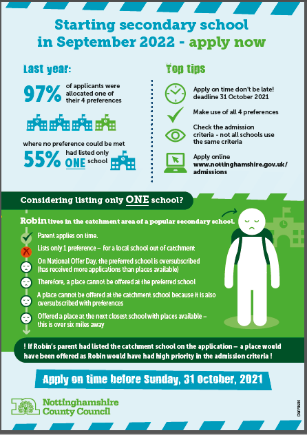 The flier for the online opening evening can be found below.
The link for the online event on Thursday 30th September at 6.30pm is:
https://url.aldermanwhite.school/oe2021
School tours also available from Monday 27th September to Friday 8th October. Please contact AW school to book.
Tel: 0115 917 0424 Email: white@whptrust.org Website: aldermanwhite.schoo
Please see the below flier regarding the Prospective Parents' Evening.
Annual Prospective Parents' Evening – Thursday 23rd September at 6.00pm
Please click on the below link to book onto one of the Open Day Tours:
https://www.eventbrite.co.uk/o/chilwell-school-34333049723