Timetables (EYFS)
Each week we aim to provide children with a balance of teacher led activities, small group activities and continuous provision time. Continuous provision is an opportunity for children to initiated their own ideas and apply what they have been learning.
An example of a weekly timetable can be found below.
Things you need to know
Wild Area - Children will go to the wild area every Tuesday afternoon. During this time children can explore different wildlife, flowers and trees. They can play in the long grass, make dens, forage and create artwork using the natural resources they find.
Parents are asked to send children to school in clothes with long sleeves and long trousers that you don't mind getting grubby, on this day. Long Sleeves and trousers ensure children are covered up as they explore the different areas of the wild area and prevents injury and irritations. Please bring waterproof clothing and Wellington boot in the case of rain.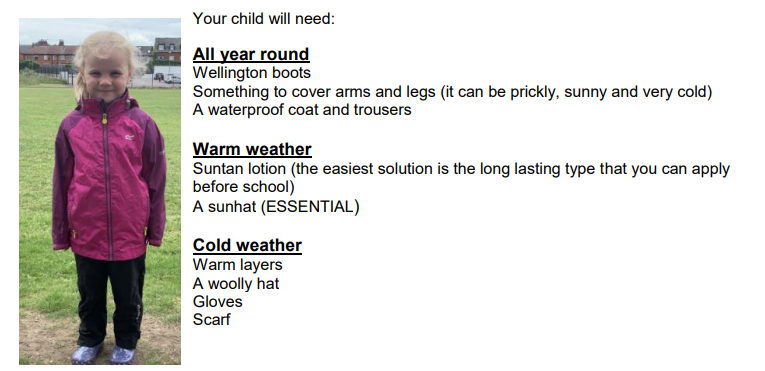 Physical Education - Children will be doing P.E every Friday afternoon. At the start of the year P.E lessons are open to choice and will build up to structured weekly sessions. During P.E afternoon, children will be exposed to activities that encourage them to use and practise different Fundamental Movement Skills.
During the Autumn Term, Parents are asked to send children to school in their P.E kits. Please see link for further information on what your child's P.E kit should look like.
From the Spring Term, children will be encouraged to bring their P.E kit in a bag and encouraged to change at school to ensure we are covering the personal care component of our curriculum.
Click here to find out more about what your child's P.E Kit includes along without uniform information.