School Uniform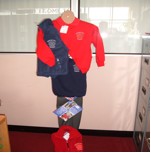 At Round Hill we follow a dress code, which allows a range of clothing options for your children to wear. Please check the recommended list of options and ensure that your child comes to school suitably dressed.
Sweatshirt, jumper or cardigan
Shirts
long or short sleeved collared or polo shirt.
white or grey.
Trousers or shorts
grey, navy or black
no jeans.
Skirt, leggings or dress
Summer dresses
checked or striped
red or blue
Footwear
sensible shoes, no trainers or high heels.
Jewellery
only a watch and stud earrings if required.
no nail varnish.
PE/Games
black shorts and white t-shirt. For outdoor games in cold weather - sweatshirt, jogging bottoms or tracksuit.
plimsolls or trainers.
Items of clothing for religious reasons are allowed.
Uniform can be purchased from:
Morleys School Uniform Specialists
Address: 116-118 Bramcote Avenue, Beeston, Nottingham NG9 4DR
Phone:0115 925 8046