Daily Mile
The Daily Mile
Round Hill have been taking part in the Daily Mile now for several years.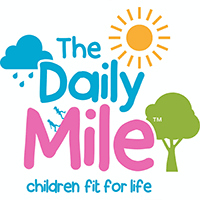 The Daily Mile is a concept which encourages children to walk, jog or run outside in the fresh air for 15 minutes every day. Its main aim is to improve the physical, social, emotional and mental health and wellbeing of children – regardless of their age, ability or personal circumstances.
It is a simple initiative to implement and increases physical activity and tackles obesity amongst our children.
Research has shown that The Daily Mile can even increase attainment in primary school, and parents have reported an increased interest in health and wellbeing from their children after they have started The Daily Mile.
We are lucky enough to have an extended running track, thanks to the PTA for funding this.
Exercise Equipment
Coming Soon - Spring 2023
We are pleased to announce that the PTA have funded the Exercise Equipment pictured below.