Ethos & Values & Vision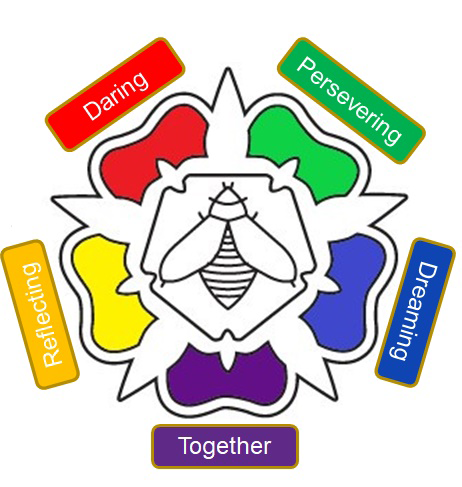 Vision Statement: 'Dream, believe, achieve together'.
Mission Statement: We are a school where we strive for everyone to be valued, appreciated, who can grow in self-confidence, are pleased to be themselves and welcome each other as unique individuals. We are a school that is excited and passionate about learning and developing, we learn from our mistakes, we are resilient whatever is thrown at us and we each have the opportunity to achieve our full potential.
Dream, believe, achieve together
Our new five core values and mission statements are:
Reflecting
"We learn from our mistakes."
At Round Hill, we take control of our learning. We reflect on our success and look for exciting new ways to improve. We embrace the importance of making mistakes as part of the learning journey. We adopt a Growth Mindset in our learning and believe in our ability to improve over time.
Daring
"We are unique."
We encourage all members of our community to be proud of what makes them unique and empower them to explore new solutions to challenges. We encourage our staff to explore varied teaching methods and strategies to support all pupils to succeed.
Persevering
"We keep trying, no matter what."
We thrive when presented with a new challenge. We recognise challenges as a new opportunity to learn and better ourselves. We listen to our peers and value feedback because it supports our growth. We recognise challenge as an exciting part of the learning journey and show resilience when we are searching for a solution.
Together
"Together Everyone Achieves More"
We are part of a TEAM where we achieve more by working together.
Dreaming
"We aim high."
We love learning; we recognise that we can all learn and that none of us have stopped developing and learning.
This is how our school values fit in Fundamental British Values
Individual liberty – Daring & Dreaming
Rule of law – Reflecting
Democracy – Persevering
Mutual respect and tolerance of other faiths and religions – Together