RHA Annnual General Meeting 2014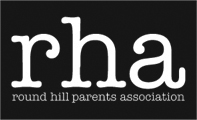 Annual General Meeting
We would like to invite you to the rha AGM. The main objectives of this meeting are to provide a summary of all the activities over the past school year and to elect a new committee.
Monday 6th October
at 8pm
at Round Hill School
All parents of the school are automatically part of the rha and everyone is welcome to join in with any activity, whether on the committee or not. However, a committee needs to be elected to represent everyone and to lead fundraising activities.
All Committee positions are up for election, so if you are interested in becoming Chairperson, Secretary or Treasurer for the rha, please either fill in the form at the bottom of this letter and hand it in at the school reception or just come along on the night and express your interest. In previous years, some of the roles have been split between 2 people, which has worked very well.
We are also very keen to increase the number of general members in the rha so please come along and hear more about our fundraising and show your support.
Drinks and snacks will be provided.
If you have any questions in the meantime, please feel free to contact Rosie Mao on 07801 708053.
------------------------------------------------------------------------------------
I am interested in the role of rha Chair/Secretary/Treasurer
(delete as appropriate) for 2014/15.
Name……………………………………………………………..............................………..Class of Child………………..
Contact number/e-mail ……………………………………………………………................................……………………