Virtual Sports Day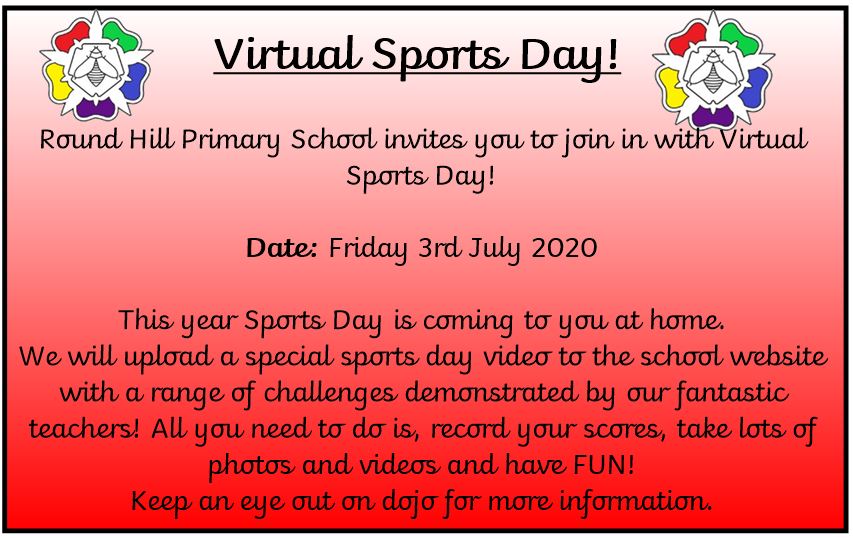 Below you will find the Full Video and individual videos of each activity we would like you to take part in.
You will also find a score sheet attached at the end so you can add up your totals. Have fun!
Itinerary
Opening Ceremony – Mr Nash
ROUNDS: 1 0R 2 MINUTES EACH
Round 1 – Sock and Spoon (Miss Matthias) Weave in and out of tea towels with a spoon and sock – 1 point for there AND back
Round 2 – Toilet Roll keepie upies (Mr Heaps) How many keepie upies can you do in 2 minutes using a toilet roll?
Round 3 – Marathon (Miss Morle) Run back and forth between 2 cones or markers – there AND back is 1 run. How many runs can you do?
Round 4 – Throwing Socks in the bucket (Mrs Munro) Stand 2 metres away from a bucket. How many socks can you get in within 2 minutes?
Round 5 – Speed Bounce (Miss Stephenson) Make a toilet roll tower (2/3) Jump over and back as many times as you can. Single jumps count! 1,2,3,4 etc. How many jumps can you do within 2 minutes?
Round 6 –Hurdles (Miss King) X4 Tea towels – jump over and back – each hurdles gets you 1 point!
Round 7 – Triple Jump -Hop, Skip, Jump (Mr Khalique) How many can you complete?
Round 8 – Football dribble (Mrs Moore) Dribble in and out of cones/object x3. (Could use a toilet roll?) 1 point for there are back.
Round 9 – Relay Race Miss Bond + Mrs Briggs TEAM EFFORT –Parents/siblings needed J Stand at 2 ends of the garden – Pass an item to and from. Each run is 1 point.
Well done for having a go. How did you get on? Let your teacher know via ClassDojo